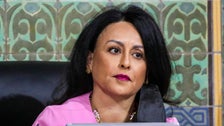 The president of the Los Angeles City Council announced her resignation Monday after recently leaked audio revealed her racist comments about a colleague and her black son.
Council President Nury Martinez released a statement saying her resignation is effective immediately, a day after The Los Angeles Times reported on the audio clips.
"I sincerely apologize to the people I hurt with my words: my colleagues, their families, especially Mike, Sean and your son. As a mother, I know better and I'm sorry," she said. "I am truly ashamed. I know this is the result of my own actions. I am sorry to your entire family for putting you through this."
"As someone who believes deeply in the empowerment of communities of color, I recognize that my comments undermined that goal," he continued. "Going forward, reconciliation will be my priority. I have already reached out to many of my black colleagues and other black leaders to express my regret so we can heal."
The LA Times said the recorded conversation took place in October 2021. HuffPost has not been able to independently verify the content of the recording.
The audio allegedly implicated Martinez, Councilmen Gil Cedillo and Kevin de León and Los Angeles County Federation of Labor President Ron Herrera. Councilors expressed themselves irritation over the maps proposed by the city's redistricting commission. According to the Times, they wanted to "make sure heavily Latino districts didn't lose economic assets."
It was during that conversation that officials brought up Councilman Mike Bonin. In audio clips published by the LA Times, Martinez can be heard saying that Bonin, a white man, is a "bitch" and that he "thinks the black man is screwed."
In the recording, Martinez says Bonin took her son, who is Black, on a float during the Martin Luther King Jr. parade. of the city, saying he "manipulated" his son as an "accessory." De León responded by comparing Bonin's handling of his son to Martinez to a luxury handbag.
The council president then complained about Bonin's son's behavior on the float, saying the councilman is raising his son "like a white boy."
Martinez then compared Bonin's son to a monkey in Spanish, adding, "I said this kid needs a beating, like let me take him to the corner and then I'll take him back."
This is a developing story. Check back for updates.