Data shows that Bitcoin mining difficulty has set a new all-time high after seeing a 13.5% jump during the last adjustment.
Bitcoin mining difficulty has the highest one-time increase since May 2021
According to data from BTC.com, BTC mining difficulty is now worth 35.61T after today's adjustment, marking a new ATH.
A relevant indicator for mining difficulty is the hashrate, which measures the total amount of computing power connected to the Bitcoin network.
Here's a chart showing the trend of this metric over the past year:
Looks like the value of the metric has sharply surged up during recent days | Source: Blockchain.com
As you can see from the chart above, Bitcoin mining hashrate increased and set a new all-time high recently.
When the hashrate value increases, it means that miners are putting more mining machines online on the blockchain.
There is something called a "block production rate" on the BTC chain, basically the rate at which miners process new transactions per hour, and a characteristic of the network is that this rate remains almost constant.
However, whenever the hashrate fluctuates, so does the block production rate. For example, increasing the value of the metric means that miners can now mine more blocks per hour thanks to the additional computing power, and thus the block production rate increases.
To fix this and bring the fee back to the standard value of the network, the chain increases its "mining difficulty". Bitcoin difficulty is a measure of the number of hashes miners need to mine a block.
With the increase, the pace of miners slows down and thus the block rate is more in line with the standard value again. Similarly, the difficulty drops in the opposite case.
The BTC network changes its mining difficulty roughly every two weeks, and the last adjustment was today. As the hashrate increased rapidly recently, the difficulty has also naturally skyrocketed.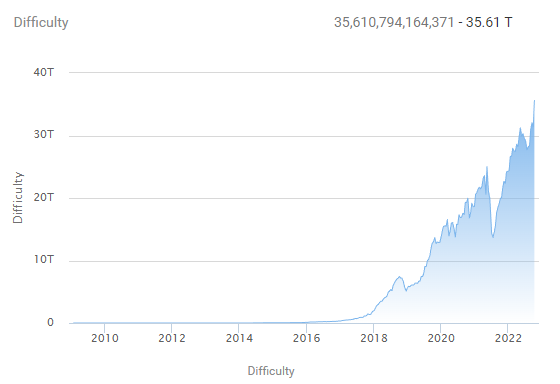 The value of the metric has set a new ATH | Source: BTC.com
After the adjustment, miners now need 35.61 trillion hashes to mine a new block on the Bitcoin blockchain, the highest ever.
BTC Price
At the time of writing, the Bitcoin price is hovering around $19.2k, down 1% in the last week. Over the past month, the crypto has lost 10% in value.
The value of the coin seems to have stagnated during the last few days | Source: BTCUSD on TradingView
Featured image from Dmitry Demidko on Unsplash.com, charts from TradingView.com, Blockchain.com, BTC.com