🔥🔥🔥 Version in Mql5 Market MetaTrader 4 🔥🔥🔥
🔥🔥🔥 Version in Mql5 Market MetaTrader 5 🔥🔥🔥
VR Lollipop Expert Advisor is an automated trading strategy designed to trade with trend movements of any financial instrument. The main task of the advisor is to accumulate positions protected by a profitable stop loss in the direction of the price movement and in the direction of the trend. At the bottom of the page you will see drawings and videos with a demonstration of the advisor's work.
Requirements and recommendations
Trading Account Type: Hedge;
Financial instruments: Forex, Crypto, CFD, Metals and others;
Terminal: MetaTrader;
Preliminary testing of training and demo accounts;
Chart period 1H or more;
Important! When testing the program in the strategy tester, keep the following points in mind:
The best test is to use the program under real conditions. To evaluate the real effectiveness of the application, buy the program for a short time and use it instead of demo accounts or microaccounts.
The strategy tester built into MetaTrader does not take into account the following: financial instrument, trading period, spread, leverage, commission, ping, requotes, real tick receipt rate, tick quality and other conditions.
The profit and loss results obtained with the strategy tester should not be taken into account!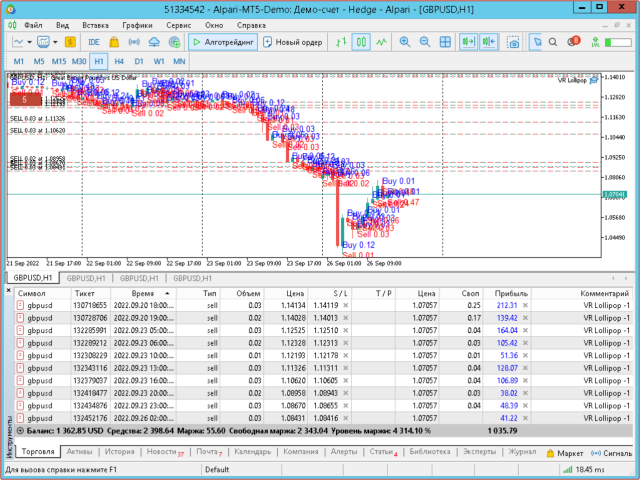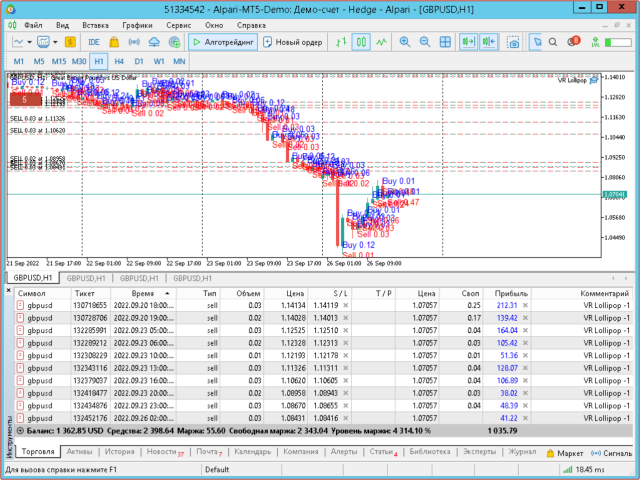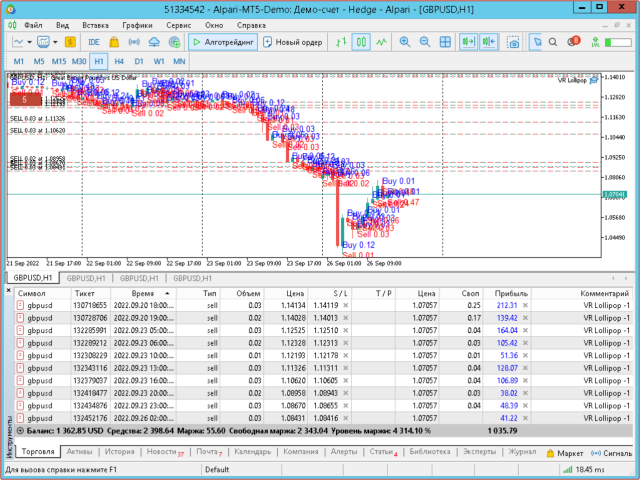 < Configuració del càlcul del lot > – Batch calculation configuration

Initial Lots – Initial Initial Lot – Set the lot for the initial positions. It can be the minimum value (0.01).
Decline lots – Decline of the initial lot in the direction of the trend. It can be the minimum value (0.01). If the initial lots are set much higher than the minimum, when a position is opened in the direction of the price movement, the lot is reduced by the value set in Decrease Lots.
Lot Multiplier – Lot Multiplier – Lot Increase Against Price Movement. It can have values ​​1,1, 1,4, 2,3…

< Position Step Settings > – Configuration to calculate the step between positions

* Step position – Step between positions
Are you using a new bar? – trading at the start of a new bar, all trading operations are carried out at the start of a new trading period.

< Configuració de parada final > – Settings to modify stop loss levels

* Profit plus: the minimum value of profit points when closing a net of open positions against the price movement.
* Breakeven point: minimum level without loss.
Type Trailing stop – Type of modification of Stop Loss levels

Manual – Manual control. The trader himself determines the Stop Loss levels for each position. Also with this value, Stop Loss levels can be controlled by other trading experts.
Donchian Channel – Modification of Stop Loss levels by Donchian channel levels.
Bolinger – Modification of Stop Loss levels according to Bolinger Bands indicator levels.
Dynamic: Dynamically changing stop loss levels based on the values ​​specified in the Trailing Size and Max Trailing % settings.

Indicator Parameter 1 (Donchian, Bolinger Period) – Donchian and Bolinger Bands Indicators Period Settings
Indicator Parameter 2 (Deviation Bolinger): Deviation settings for the Bolinger Bands indicator
* Final size (dynamic): the maximum value of the desired profit for a position in points.
Maximum % of trailing stop (dynamic) – Percentage in profit fixing points as a result of the movement of stop loss levels for each market position. It can take values ​​from 10 to 90 percent.

< Altres configuracions > – Other configurations

Magic Number: A unique number of positions to open
* Slide: The size of the slide
Telegram Bot Token: Telegram bot token to receive account status messages.
Position Comments – Comments on positions

< Anotació > – Annotations

* – The setting depends on the number of decimal places, for 5 runners 500, for 4 runners 50 – Note
🔥 Together with the program you will receive:
Free updates
Free technical support
Free access to the user community
30 activations, which will allow you to change the computer or reinstall the operating system 30 times
🔥 Program versions::