Indian stock markets ended Tuesday with a bang helped by a strong show in US markets on Monday. Weak economic data in the US lifted markets on hopes of a less aggressive stance by the Federal Reserve towards interest rate hikes to control inflation at the next monetary policy meeting.
The BSE Sensex closed at 58,065.47, up 1,276 points or 2.25 percent. Meanwhile, the 50-share Nifty50 settled at 17,274.30, up 387 points or 2.29 percent. In the 30-share Sensex, 27 ended in the green while 3 traded in the red at the close. Forty-eight Nifty50 stocks advanced while the remaining two declined. , 27 stocks advanced while 23 declined. Nifty Bank ended at 39,110.05, up 2.84 percent or 1,080 points.
All 15 sectoral indices closed in the green with Nifty Metal (3.13%), Nifty Private Bank (3.16%) and Nifty PSU Bank (2.97%) and Nifty IT (2.87%) among the top performers .
In the broader markets, the Nifty Mid Cap 100 (2.66%) and Nifty Small Cap 100 (1.76%) closed positive
Here's what to watch out for when markets reopen on Thursday:
1) Indian stock markets will remain closed on Wednesday due to Dussehra Holiday. Thursday's opening will depend on the close of US markets on Tuesday and Wednesday. Tuesday Wall Street's rally continued Tuesday, with the Dow 30, Nasdaq Composite and S&P 500 trading in the green. The DOW 30 traded at 30,228.40, up 737.56 or 2.50 percent. Meanwhile, the S&P 500 traded at 3,780.44, up 102.01 or 2.77%. Nasdaq Composite was trading a 11,159.60, more 340 points or 3.18 percent at the time of presentation of the story.
Source: Comex
2) Rupee vs Dollar: The rupee appreciated by 20 paise to end at 81.62 against the US dollar on Tuesday, as strong buying in domestic stocks and weakness in the greenback bolstered investor sentiment.
However, rising crude oil prices in the international market capped the rupee's gain, currency traders said. In the interbank foreign exchange market, the local unit opened strongly at 81.66 against the greenback. It witnessed an intraday high of 81.36 and a low of 81.66 during the session. "Positive FII number sees rupee gain lost ground. However, crude oil prices have shown positive activity which may curb the ongoing euphoria as OPEC to announce production cuts amid slump in demand due to recession. The rupee is expected to trade in the 81.00-81.80 range," said Jateen Trivedi, vice president research analyst at LKP Securities. "The rupee retreated from its all-time lows after the RBI raised rates by 50bps. The dollar rebounded from highs after the manufacturing PMI number released from the US came in below estimates." Volatility in major crosses remains high as updates on changes in economic policies keep market participants on edge. Today, the focus will be on the factory order number to assess a dollar view. We expect USD/INR (spot) to trade in the range of 81.20-82.05," said Gaurang Somaiya, currency and bullion analyst at Motilal Oswal Financial Services. PTI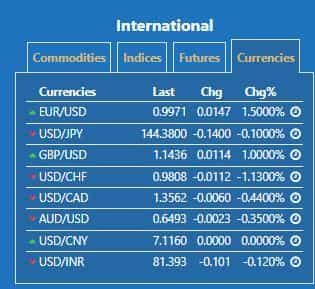 Source: Comex
3) Anil Singhvi's Strategy: Nifty has support around 17100 and resistance at 17325, the managing editor said. Once the resistance is crossed, an upside will open for levels upto 17500. As for Bank Nifty, support is seen at 38626-38800 while resistance will be between 39500-39650. #BazaarAajAurKal
4) Volatility Index (VIX) decreased 8.40 percent to 19.57 Monday at 21.37.
5) Electronics Mart India, the initial public offering (IPO) that opened today was oversubscribed 0.54 times on the first day. Retail Individual Investors (RIIs) subscribed 0.97 percent. Non-institutional investors (NIIs) subscribed to the issue by 0.25 percent. The issue ends on October 7 (Friday).
6) No stock will be banned on October 6 (Thursday) as per data available in NSE.
7) FII/DII date: Foreign institutional investors (FIIs) bought Indian stocks worth Rs 1,344.63 crore, while domestic institutional investors (DIIs) bought stocks worth Rs 945.92 crore.
8) Bulk Offers: At least 14 companies witnessed massive action on the NSE. Graviton Research Capital LLP bought 52,963 shares at Rs 161.58 per share from BSL Ltd. Graviton Research sold 52,963 shares at Rs 162.22 per share of the company. Matalia Stock Broking Private Limited bought 52,090 shares at Rs 162.14 per share. Matalia sold 52,090 shares at Rs 162.54 per share. QE Securities bought 85,129 shares of Liberty Shoes Ltd at Rs 335.37 per share. QE Securities sells 96,573 shares at Rs 337.08 per share. Among other stocks that saw bulk bidding were Vashali Pharma, Tapi Fruit Processing and Akshar Spintex. There could be specific action in these stocks when the markets reopen on Thursday.
9) Q2FY22 results: Companies to announce their quarterly earnings include Jhandewalas Food Limited, Galactico Corporate Services and Vivanta Industries.
10) Vikas Sethi is bullish on the markets and recommends a buy. He recommended ITD Cementation with a view of the positional term. It was recommended at a price around Rs 113 for a price target of Rs 130 and a stop loss of Rs 105.
(Disclaimer: The opinions/suggestions/advice expressed here in this article are solely those of investment experts. Zee Business suggests its readers to consult their investment advisors before taking any financial decisions.)