!!! Offer!!! –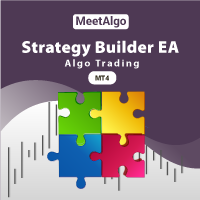 MeetAlgo Strategy Builder EA has more seeds 34+ It incorporates an indicator that you can do more 1 million combination strategy that improves trading strategy. Also this Strategy Builder offers an incredible amount of functionality. So you can test your strategy easily without coding knowledge. This is the All-In-One EA in this market. You can use as EA type trading management or use full automation. When you have an idea in mind, you can make your idea with this EA without saving a lot of custom development costs. Have you ever heard the saying that the whole is greater than the sum of its parts. Well, Aristotle was wrong when it comes to that CAP Strategy Builder EA because the sum of its parts is greater than the whole and that couldn't be more true when it comes to this handy little tool, because it's not just a strategy builder.
Buy EA Strategy Builder ALL-IN-ONE EA Get Our EA Below FREE –
FREE EA –

NO Zone Recovery EA PRO
CAP Universal Grid EA
How To Get Free EA –

STEP 1 # – Buy Strategy Builder EA
STEP 2 # – Write the review in Strategy Builder EA

STEP 3 # – Send me a message with three screenshots
Screenshot of purchase

Screenshot of the reviews
After sending your message. We verify your purchases. After verifying, we will send you the product link from our official website (meetalgo(dot)com)
Equipment and condition
1. A review for a free product (either MT4 or MT5
2. Free product we will offer you from our official website, not from MQL5 market.