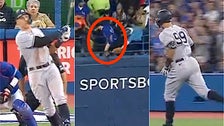 New York Yankees superstar shortstop Aaron Judge tied the American League record when he hit his 61st home run of the season on Wednesday night.
And at least one fan will never forget the moment, but for all the wrong reasons: He almost caught the ball, which will certainly be worth it.
The fan was among several sitting on the field wearing gloves, ready to catch the historic ball. When he reached them, he held out his hand… seemed to put his glove on it… and then fell:
Judge tied Roger Maris' 1961 record with the seventh-inning blast that put the Yankees ahead in a game they would eventually win. The single-season major league record is held by Barry Bonds of the San Francisco Giants, who hit 73 in 2001.
Replay footage shows the fan going through a series of emotions, none of them good:
The ball was eventually caught by Blue Jays bullpen manager Matt Buschmann. His wife, sportscaster Sara Walsh, wrote on Twitter: "The bad news is that I'm here in Florida fighting a hurricane, but the good news is that I can announce my retirement…"
When Buschmann delivered the ball to the Yankees, he added an update: