Just three weeks ago we watched as the 2022 hurricane season approached the halfway point without a single hurricane making landfall on the US coast.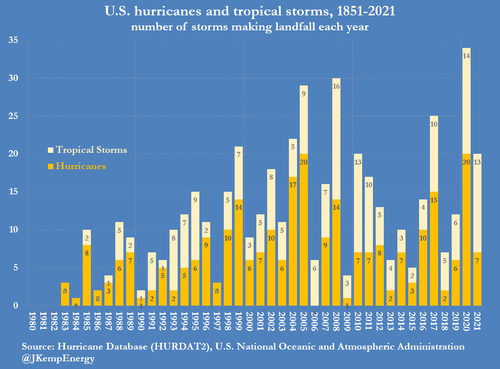 That's all about to change, and with a bang: As powerful Hurricane Ian bears down on Florida, which is being evacuated quickly before landfall, it threatens to further destabilize a homeowner's insurance market already in the brink of disaster.
The storm is expected to make landfall along the southwest Florida coast late Wednesday night or early Thursday, and could send seawater onto the streets of Tampa.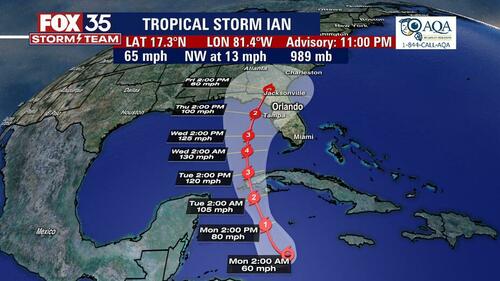 Although Ian's strength and trajectory are subject to change in the coming days, an initial estimate pegs the potential damage and economic loss in the Tampa Bay region at $50 billion to $70 billion, according to Chuck Watson, a disaster modeler with Enki Research.
That price, according to Bloomberg citing data from the National Oceanic and Atmospheric Administration, would make Ian among the costliest storms in US history, as the top end of that range would rank Ian as the sixth costliest US hurricane. Difficulties in getting needed equipment and supplies to victims due to stuck supply chains are likely to further increase costs.
Some insurers will probably not survive: Ian comes on the heels of six insolvencies among insurers writing homeowners policies in the state. According to Bloomberg, the biggest insurers have largely pulled out of the market after taking a beating from natural disasters, and smaller firms still active there have struggled to absorb losses.
"It's the worst time for the storm, especially if it hits Tampa Bay," Logan McFaddin, vice president of state government relations for the American Property Insurance Association, said in an interview.
www.zerohedge.com/economics/hurricane-ian-unleash-70-billion-loss-insurance-market-devastation-and-spike-inflation