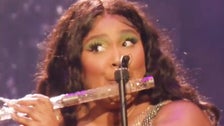 Lizzo treated her fans in Washington, D.C. to a historic performance Tuesday with a 200-year-old crystal flute given to President James Madison, according to NBC Washington.
The "About Damn Time" singer was invited by the Library of Congress to play the instrument on stage during a stop on her "Special Tour." Not only has the instrument survived the centuries, it escaped the fire of Washington in 1814, when British troops burned down the White House.
Its unexpected resurrection was spurred by a tweet from Carla Hayden, the Librarian of Congress.
"The @libraryofcongress has the world's largest collection of flutes at over 1,800," Hayden tweeted on Friday. "Includes Pres James Madison's 1813 cirstal flute. @lizzo we'd love for you to come check it out and even play a couple when you're in DC next week. Like your song, they're "Good as the hell".
"No one had ever heard this famous glass flute before," Lizzo tweeted on Wednesday. "Now you have it. I am the first and only person to play this 200 year old presidential glass flute, thank you @libraryofcongress.