As we noted in our fundamental analysis today, "overall, EUR/USD continues to move lower." The pair remains in the bear market zone, both long-term (below resistance levels 1.1150, 1.1265, 1.0570) and short-term (below resistance levels 0.9774, 0 .9956).
If the dollar is under pressure today (in the case of Powell's dovish rhetoric during his speech today at 14:15 GMT), then EUR/USD may have a chance to recover slightly after a sharp decline in fixing some of the long positions in USD. In this case, a corrective growth to the 0.9774 resistance level is likely. Its break will be a signal for the implementation of an alternative scenario, which involves the growth of EUR/USD (with a target at the 1.0025 resistance level).
In the main scenario, we expect a further decline. The nearest target is a local low and a support level of 0.9535. Also, towards the 0.8700, 0.8600 marks.
Support levels: 0.9535, 0.9500, 0.9400, 0.9300, 0.9200, 0.9000
Resistance levels: 0.9615, 0.9700, 0.9744, 0.9900, 0.9956, 1.0000, 1.0025, 1.0195, 1.0200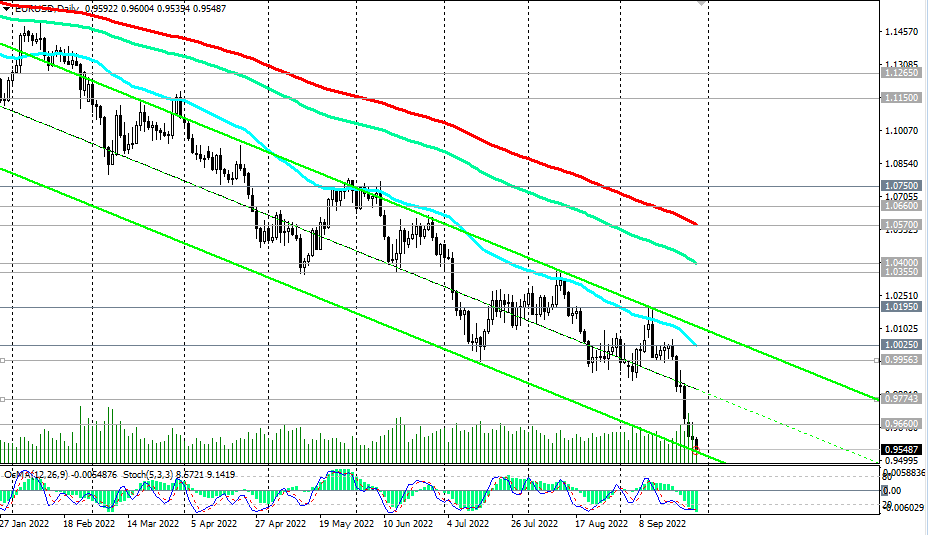 see details -> https://www.instaforex.com/ru/forex_analysis/322918/?x=PKEZZ
signs -> https://www.mql5.com/en/signals/author/edayprofit
see also "Technical Analysis and Trading Recommendations" -> https://t.me/fxrealtrading