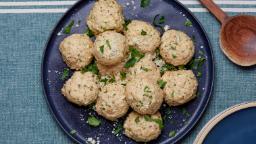 Get the recipe: The Best Turkey Meatballs
Get the recipe: Turkey Lasagna
You don't have to wait until summer to make hamburgers. Anne's are made right in the kitchen and feature bold flavors like soy sauce and ginger to liven up the lean turkey meat.
Get the recipe: Turkey Burger
Get the recipe: Shawarma Stuffed Peppers
Guy Fieri recommends forming the ground turkey into oblong patties when preparing these turkey juices. That way, you'll get the perfect bread-to-meat ratio in these sandwiches.
Get the recipe: Turkey Burger Patty Melts
Get the recipe: The Best Turkey Meatloaf
Giada reinvents this classic children's casserole for adult palates with a hearty ricotta filling with artichokes and spicy red sauce.
Get the recipe: Shells stuffed with turkey and artichokes with arrabbiata sauce
Aarti Sequeira cooks up the classic all-American sloppy joe with an Indian twist by adding spices like garam masala and cumin.
Get the recipe: Sloppy Bombay Joes
Get the recipe: Healthy Air Fryer Turkey Meatballs with Zoodles
Ellie Krieger's turkey burgers are healthy, but far from bland. Top each patty with mozzarella cheese and roasted red peppers for a creamy texture and sweet, smoky flavor.
Get the recipe: Stuffed Turkey Burgers
Get the recipe: Turkey Chili with Pumpkin Noodles
Get the recipe: Single Turkey Shepherd's Pie
Get the recipe: Turkey Meatloaf
Turkey, spinach, and mascarpone cheese come together as a satisfying filling for soft corn tortillas in this simple recipe. For authentic style, serve the cheese taquitos with chunky salsa and fresh guacamole.
Get the recipe: Turkey Spinach Taquitos
There is a mixture of pork and turkey in these breads to keep them meaty and flavorful, but you can use all ground turkey if you like. The football shape is perfect for a game night.
Get the recipe: Mini Meatballs
Get the recipe: Big Batch Turkey Chili
Stuffed with sweet Italian sausage and prosciutto, Ina Garten's jumbo meatballs pack so much flavor you'd never guess they were built with a base of lean ground turkey.
Get the recipe: Spicy Turkey Meatballs and Spaghetti
Alex Guarnaschelli's lighter version of the double cheeseburger features ground turkey instead of beef. Adding some Sriracha mayo to the ground beef makes the burgers extra juicy with a hint of spiciness. If you want something smaller, make eight individual burgers in a single layer.
Get the recipe: Double Decker Turkey Patty Melt
Get the recipe: Ohio Turkey Chili
Giada De Laurentiis seasons tender turkey meat with onion, garlic, parsley and cheese to make rich, moist meatballs.
Get the recipe: Mini Turkey Meatballs
This recipe captures many of the traditional flavors of chili, but increases its texture, color and vitamins. We used protein-rich black beans, lean turkey and sweet pumpkin, and added some unexpected crunch and thickening power with chia seeds.
Get the recipe: Turkey Squash and Turkey Chili
Rachael Ray combines lean turkey with lots of veggies to keep the burger moist. Cilantro, peppers and spices add some great Southwestern flavors.
Get the recipe: Southwest Turkey Burgers
Serve these juicy turkey meatballs on their own as a mini appetizer or add them to your favorite pasta recipe. For moister and tastier meatballs, be sure to use ground turkey, not ground turkey breast.
Get the recipe: Lemon Whole Grain Linguine with Turkey Meatballs
These Island-inspired grilled potatoes combine ground turkey with shredded green apple, relish and panko breadcrumbs, and are topped with mango chutney for a sweet contrast.
Get the recipe: Mango Turkey Burgers
Serve Giada's spicy turkey and cannellini bean chili with a side of her simple quinoa and pine nut pilaf. The fluffy quinoa will help absorb the salty chili broth.
Get the recipe: California Turkey Chili
Get the recipe: The Ultimate Sloppy Joes
Instead of reaching for the takeout menu, try this. Melissa d'Arabian's DIY Lettuce Wraps allow little ones to choose which vegetables to include at dinner.
Get the recipe: Turkey Lettuce Wraps
You'll get the same big, meaty bites from Amanda Freitag's turkey burger as you would from your local Greasy Spoon burger, but without the excess fat. Not only does Amanda opt for lean turkey over beef, she also works chives, shallots and thinly sliced ​​red pepper into the potatoes.
Get the recipe: A great turkey burger
Get the recipe: Sauteed ground turkey enchilada with couscous
Rachael's go-to dish combines tender egg noodles with a creamy bacon and ground turkey sauce. For a classic cheese crust, top the casserole with first gruyere, then breadcrumbs, and grill until the cheese melts and the crumbs are golden brown.
Get the recipe: Turkey Noodle Casserole
Big peppers will light up this turkey chili with their mild sweetness. Rachael adds a little barbecue sauce for a hint of sweet heat.
Get the recipe: Indian Summer Turkey Chili
Ellie lightens up her mom's meatloaf while keeping all the flavor she loved as a child. His secret? Quick-cooking oats, to add fiber and texture.
Get the recipe: Mom's Turkey Meatloaf
The chefs at Food Network Kitchen use turkey instead of the classic beef to create this hearty Bolognese. All the same familiar flavors are here, though: tomatoes, mirepoix, garlic and fennel.
Get the recipe: Turkey Bolognese Sauce
Bobby enhances juicy grilled turkey burgers with goat cheese, honey lemon mustard and watercress.
Get the recipe: Turkey Burgers
Giada's light and warm soup is loaded with lean ground turkey, whole grains, and lots of veggies.
Get the recipe: Turkey Kale Brown Rice Soup
A filling of spinach and feta cheese makes this burger juicy and satisfying, especially when topped with a lemon dill yogurt dip.
Get the recipe: My Big Greek Burgers
Smoky paprika gives this stew's sauce an exotic touch and a deep, woodsy flavor that pairs perfectly with herbed turkey meatballs.
Get the recipe: Spanish Turkey Meatball Stew
Brown rice, dried currants, and walnuts add hearty texture to these stuffed turkey peppers. Serve the peppers with a simple side salad for a healthy and filling weeknight dinner.
Get the recipe: Stuffed Turkey and Rice Peppers
The spicy kick and multiple herbs in this sauce add layers of flavor without the fat. Carrot, onion and parmesan add volume and moisture.
Get the recipe: Turkey Meatballs with Quick and Spicy Tomato Sauce and Whole Wheat Spaghetti
Mix a portobello mushroom into the turkey patty for extra flavor, then top with cream cheese and avocado.
Get the recipe: Perfect Turkey Burgers
Grated apples and a sprinkle of cinnamon add fall flavor to these mini turkey meatballs. Serve them alone for a group or over mashed potatoes and topped with parsley for a family meal.
Get the recipe: Turkey Apple Swedish Meatballs
The guy uses ground turkey and three types of beans to make this kid-friendly chili. It's full of protein and is great for school lunches the next day.
Get the recipe: Ryder's Turkey Chili
Get the recipe: Classic Italian Turkey Meatballs
Poblanos are spicy, but not too hot, making them the perfect kick for a crowd-pleasing chili. Rachael tops this tailgate favorite with shredded cheddar, crispy bacon, and crumbled corn muffins.
Get the recipe: Ranch-Style Turkey Chili
Get the recipe: Turkey Tacos Picadillo
Get the recipe: Mini Turkey Meatballs
Get the recipe: Slow Cooker Turkey Chili
Get the recipe: Turkey meatloaf with feta and sun-dried tomatoes
Get the recipe: Turkey Quinoa Stuffed Peppers
Boiling the sauce with a rind of Parmesan cheese allows the tomatoes to take on that salty, nutty flavor.
Get the recipe: Penne with Turkey Ragu