Zee Business Stock, Trading Guide: National stock markets continued their losing streak on Tuesday, witnessing their fifth straight loss. However, the loss was marginal, unlike what has been happening over the last four trading sessions. The BSE Sensex ended at 57,107.52, down 37.70 points or 0.07%. Meanwhile, the Nifty50 ended at 17,007.40, up 8.90 or 0.05 percent.
Indian markets opened on a positive note following cues from the Dow 30 futures only to concede the gains as the trading session progressed.
In the 30-share Sensex, 18 stocks were trading in the green at the close, while the remaining 12 were in the red. As for the 50-share Nifty50 index, 28 stocks advanced while 22 declined at the close.
Of the 15 sectoral indices, 9 closed positively. Nifty Oil & Gas (1.13%) was the top gainer followed by Nifty IT and Nifty Pharma which rose nearly 1% from Monday's closing levels.
Nifty Bank fell over 250 points or 0.7% to settle at 38,359.15. Nifty Metal (0.86) and Nifty Financial Services (0.80) were among the top losers.
There was stock-specific action in broader markets with Nifty Mid Cap 50, Nifty Mid Cap 100 and Nifty Small Cap 100 ending in the green.
Things to keep in mind when markets reopen on Wednesday:
1) RBI Monetary Policy: The important meeting of the Reserve Bank of India's Monetary Policy Committee will begin tomorrow. The three-day meeting will be followed by announcements by Governor Shaktikanta Das on Friday. The Central Bank is expected to raise rates by 50 bp.
2) Rupee vs Dollar: The Indian rupee broke its four-day losing streak on Tuesday and settled 14 paise higher at 81.53 against the US dollar, PTI reported. It opened strongly only to give its first gains later. The local unit opened at 81.45 against the greenback. It witnessed an intraday high of 81.30 and a low of 81.64 during the session. "The focus will be on durable goods and consumer confidence numbers to be released from the US. We expect USD/INR (Spot) to trade sideways and trade in the 81.20-81.80 range," the report quoted Gaurang Somaiya, currency and bullion analyst, Motilal Oswal Financial Services as saying. The rupee has lost 193 paise against the US dollar in the previous four sessions, the report said.
3) US Markets: Wall Street was buzzing with activity with major indexes trading in the green at the time of the news. The Dow 30 was trading at DOW 30 was trading at 29,288.80, up 27.99 points or 0.10 percent. Meanwhile, the S&P 500 and Nasdaq Composite also rose 0.28% and 0.72% during that time. Gold and silver were also trading positively on Comex. Today's close along with the Dow 30 Futures on Wednesday could determine how markets open tomorrow.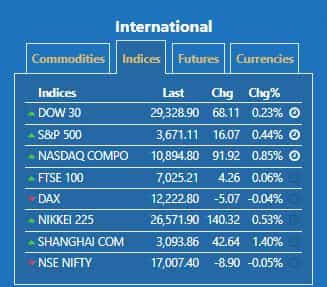 Source: Comex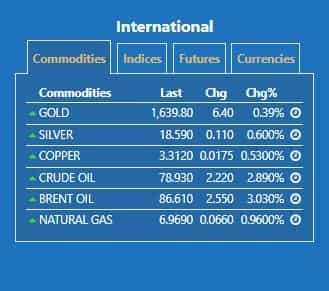 Source: Comex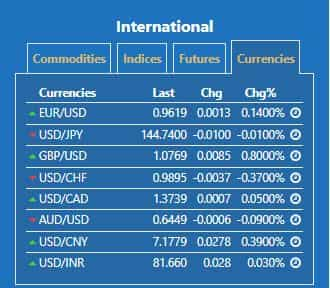 Source: Comex
4) Anil Singhvi Strategy: Nifty50 will find its support at 16800-16900 while resistance at 17200-17325. As for Bank Nifty, the support is at 37950-38050. A downside of another 300-400 points will open if the index breaches 37950, the managing editor said. There is strong resistance at 39,000, he added. Expect volatility to continue over the next 2-3 trading sessions due to monthly expiration.
5) Foreign Institutional Investors (FIIs) sold Indian stocks worth Rs 2,823.96, while Domestic Institutional Investors (DIIs) bought stocks worth Rs 3,504.76.
6) Securities banned from trading Date September 28, 2022: Vodafone Idea and Zee Entertainment Enterprises (ZEEL)
7) Bulk Offers: Anant Aggarwal bought 1,20,000 shares of Annapurna Swadisht Ltd at Rs 122.16 per share. The same company sold 6,000 shares at Rs 123.97 per share. SS Corporate Securities Limited 2,00,000 shares were sold at Rs 120.06 per share. Purchase of Trishakti Power Holdings Private Limited 1,04,000 shares at Rs.114 each. Other stocks that saw Bulk Deal action included Bharat Gears, Varanium Cloud Limited and Embassy Office Parks REIT. There could be specific stock actions, so investors should watch out for them.
8) The market is now in an uncertain territory amid the strengthening dollar and weakening rupee, market expert Shrikant Chouhan of Kotak Securities told Zee Business. It would take time for the markets to become stable, he said. He said the market is oversold and could see a rally. His stock to buy is Axis Bank for a target price of Rs 800 and a stop loss of Rs 715. His view on these actions is ultimately positional.
9) Stock market expert Nilesh Jain said the markets remain oversold and may see a rally soon. Recommend a strategy for investors in Nifty50 and Nifty Bank. Nifty has support between 16850 and 16940. It sees resistance between 17150 and 17200. Expect a pullback of 200 points in the short term. A breach of 17360 will open an upside between 17700 and 17800. Jain, who is the Assistant Vice President, Technical and Derivative Research at Centrum Broking, sees immediate support in Nifty Bank at 3790. If it breaks on the downside, will open up an 800-point deficit, he added. Resistance is 38700-39000.
10) Stocks to buy: Jain recommends shares of Cipla and Larsen & Toubro Infotech for targets of Rs 1130-1150 and Rs 4600-4650 respectively. The stop losses are Rs 1080 (Cipla) and Rs 4430 (L&T Infotech).
11) Economy: Economic Affairs Secretary Ajay Seth on Tuesday dismissed concerns about foreign exchange reserve depletion as "overblown" and said India has a large enough reserve to deal with the current situation . Foreign exchange reserves fell for a seventh straight week, to $545.65 billion on September 16. Reserves, which have been falling as the central bank deploys its kitty to defend the currency amid pressure caused mainly by global developments, had fallen by $2.23 billion to $550.87 billion in previous week "There has been a depletion as inflows have come down and the trade deficit is higher… I don't see it as worrying, India has quite large reserves to deal with this situation," Seth said. PTI
(Disclaimer: The opinions/suggestions/advice expressed here in this article are solely those of investment experts. Zee Business suggests its readers to consult their investment advisors before taking any financial decisions.)