Glassnode data shows that Bitcoin's profit in short-term holders' supply has been falling for 431 days.
Bitcoin's short-term profit supply has been under compression recently
According to Glassnode's latest weekly report, the STH benefit offering typically goes through three phases each cycle.
"Supply in profit" is an indicator that measures the total amount of Bitcoin currently held at some profit in the network.
The metric works by looking at each coin on the chain to see what price it last moved to. If that price for any coin was lower than the value of BTC at that time, then that particular coin has some currently unrealized profit.
Related reading: Italian soccer champions AC Milan unveil NFT partnership with MonkeyLeague
The "short-term holder" (STH) group is a BTC cohort that includes all investors who have held their coins for less than 155 days.
Now here is a graph showing the trend of the share of Bitcoin supply in profits owned by STHs: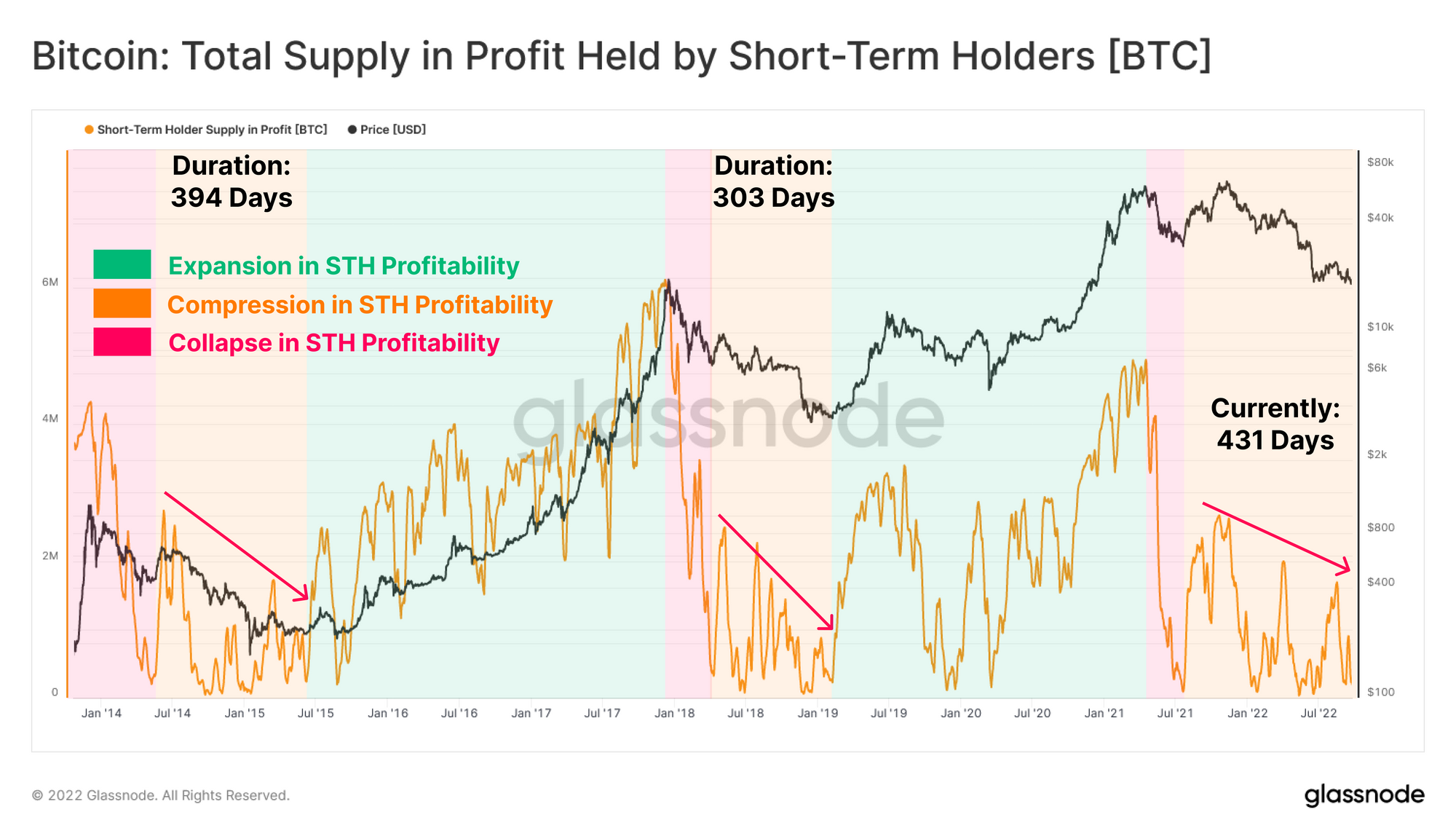 Looks like the value of the metric has gone down in recent days | Source: Glassnode's The Week Onchain - Week 39, 2022
As you can see in the chart above, Bitcoin STH's profit offering has been following the same three phases throughout the different cycles.
The first phase takes place right after the price of the crypto reaches the peaks of the cycle, where the drop causes STHs to take significant losses.
Subsequent declines in the value of BTC that follow cause STH's profits to shrink even smaller, until the pullback slows and the cost basis of these holders catches up with the real price. This second phase is the compression period.
Finally, as the STH cost base approaches the market price after this phase, any significant increase in price also results in large amounts of STH supply simultaneously making a profit. In this third phase, the STH supply for profit goes through an expansion along with the value of the coin.
From the chart, it is clear that the Bitcoin market is currently in the second phase, as the value of the indicator has experienced compression.
The supply of STH at a profit has been locked in this phase for 431 days, longer than in any of the previous cycles.
BTC Price
At the time of writing, the price of Bitcoin is hovering around $20.1 thousand, up 5% in the last seven days. Over the past month, the crypto has lost 1% in value.
The value of the coin seems to have sharply gone up over the last twenty-four hours | Source: BTCUSD on TradingView
Featured image from Dmitry Demidko on Unsplash.com, charts from TradingView.com, Glassnode.com