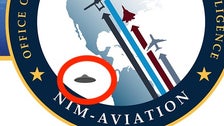 A federal intelligence agency tasked with aviation-related matters has a new logo, suggesting the organization is tracking more than just familiar planes.
The National Intelligence Manager-Aviation logo shows a series of airplanes as well as a UFO.
UFO researcher and filmmaker Jeremy Corbell was among those who tweeted the image, which is also on the agency's website:
It is not clear when the logo was created or updated, but the Internet Archive's Wayback Machine shows a different logo as late as June.
It's also unclear whether the logo is the work of hackers or pranksters.
A video on the agency's website explaining its role and function does not mention flying saucers or any other form of UFO, but notes its role in aerial intelligence.
"NIM-Aviation leads the intelligence community's efforts to identify, analyze and integrate intelligence on threats and vulnerabilities in the air domain," says the Office of the Director of National Intelligence, which oversees the agency, on its website.
The new logo comes as the US military and other government agencies have been forced to admit they have spotted objects they cannot explain.
In 2019, the US Navy confirmed that leaked videos showing unknown objects tracked by pilots were in fact real and not intended for the public.
In one case, an object called "Tic Tac" — named because it looked like candy — was tracked and filmed as it sank from 60,000 feet to 50 feet in a matter of seconds off the coast of California in 2004.
"The part that caught our attention was how it didn't behave within the normal laws of physics," pilot Chad Underwood told New York magazine in 2019.
In another incident, from 2015, two Navy pilots tracked an unidentified object off the East Coast.
"Wow! what is this man Watch this flight!" one of the pilots said in the clip.
While the public has called these objects UFOs (unidentified flying objects), the military has referred to them as UAPs, or Unidentified Aerial Phenomena.
Last year, the Office of the Director of National Intelligence presented a report to Congress about the objects, which are under investigation by both the military and lawmakers.