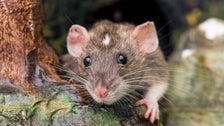 Residents of a northern Virginia community were left reeling after a rodent knocked out their power on Friday.
More than 1,500 residents in the Tysons, Virginia area experienced the overnight outage, according to WUSA-TV.
Peggy Fox, a spokeswoman for Dominion Energy in northern Virginia, revealed the cause of the outage on Twitter: a curious, pesky creature.
Fox wrote that the outage was due to a rat "infiltrating a piece of equipment" and causing an outage that left 1,588 customers in the dark.
The outage was resolved after just over an hour, Fox wrote.
Twitter users joked about the disruption and the rat's involvement on Saturday.