Although NEAR Wallet is a recommended choice for many users of the NEAR protocol, there are times when it experiences unplanned outages and technical issues. This is related to the fact that NEAR Wallet is considered a legacy app that will soon serve a different purpose.
Just yesterday, on September 22nd, Pagoda Platform, the main contributors to the core open source NEAR protocol, he tweeted: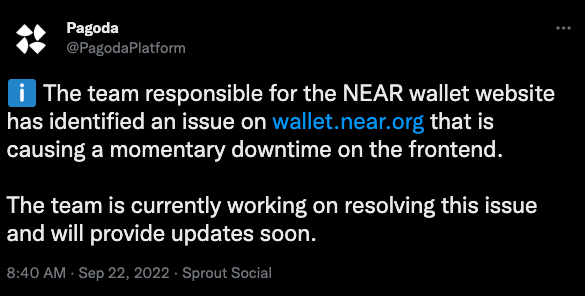 There seemed to be a problem with the website interface that should be a quick fix. The Pagoda account came back with an update, tweeting that the NEAR wallet team identified an SSL configuration issue with the frontend hosting provider and was actively working to restore the site while preparing a fallback option .
The entire issue was likely caused by an outage in the NEAR protocol infrastructure that has since been fixed, and all related wallets should be up and running again, according to the team official. Twitter. Also, according to the NEAR blog, the NEAR Wallet app will be removed soon and users will be advised to switch to other compatible wallets.
Meanwhile, these kinds of technical issues occurred and may occur again, which would leave users worried until things return to normal. Therefore, it is essential to know which are good alternatives to the NEAR wallet that you can trust so that you can have peace of mind. In this article, we will discuss the best alternative wallets that work with the NEAR protocol and what features they offer.
MyNearWallet
MyNearWallet is a non-custodial wallet developed by Kikimora Labs for storing and staking NEAR tokens and other compatible assets.
The team behind MyNearWallet has been developing their project alongside the growth of the NEAR protocol ecosystem, and they continue to work on both supporting legacy wallet features and adding new ones. The MyNearWallet team makes it a high priority to constantly update their users on any issues or changes. They communicate actively on social media and on their blog on Medium. The platform also offers responsive live chat support and a friendly interface will make the transition smooth and seamless.
You can easily import your existing wallet by following this step-by-step guide on the official wallet media. Once your account is recovered, you can start sending and receiving transactions and staking your assets with MyNearWallet.
NearPay
NearPay is a custodial crypto wallet that works on the NEAR protocol. It's an easy way to store, buy and exchange crypto. It allows users to buy cryptocurrency with a debit or credit card, convert cryptocurrency to fiat, and withdraw funds to a bank account. NearPay users can also spend crypto assets with a prepaid crypto card, which is available to residents of the European Economic Area (EEA) and the United Kingdom. The virtual card is already available to users, while the plastic version is announced to be launched in the near future.
The NearPay support team is available to assist users with any questions or concerns. The wallet app is available on the web, iOS, and Android, and supports 38 cryptocurrencies, including NEAR, BTC, ETH, and USDT.
HERE Wallet
The HERE wallet is an iOS mobile wallet for the NEAR protocol. The app can be used to buy, sell and use NEAR and compatible assets.
Features of this wallet app include BTC payouts with 0% fee, up to 10% staking APY and instant withdrawals. New users can buy up to $1,000 worth of crypto without having to complete the KYC verification process.
Users also have access to all dApps thanks to the HERE wallet's ability to integrate with the NEAR web wallet.
Thinking ahead
If you use NEAR actively and need to be sure that you can always access funds, one of the wallet apps discussed above can be a great alternative to legacy wallet.near.org.
As NEAR moves towards decentralization, wallet.near.org will eventually serve as the landing page for all supported wallets running in the ecosystem. The NEAR team intends to give users more options while browsing the Web3 space. It adopts a similar strategy with wallets because NEAR has always believed in a multi-chain world.
Since the NEAR protocol team is no longer working on the original web wallet, it may not be updated and maintained as frequently as other newer applications. As part of the transition, NEAR wallet users will be encouraged to migrate their wallet to a new provider. NEAR holders, as well as holders of other crypto assets, can take advantage of a variety of features and incentives with these newest apps.