No break for the stock markets on Friday! After a bloodbath in India in domestic stocks, US markets are suffering a rout. The Dow 30 was trading at 29,448.30, down 628.42 points or 2.09 percent. The Nasdaq Composite was down 247.29 points, or 2.23%, at 10,819.50. While the S&P 500 was trading at 3,674.61 and down 83.38 points or 2.22 percent.
On Friday, the Nifty50 fell 1.72 percent or 302 points to close at 17,327.35, while the 30-share index closed at 58,098.92, down 1,020.80 or 1.73 per cent. In the 30-share Sensex, only three stocks ended in the green while the remaining 27 traded in the red at the close. Here are the top winners and losers.
Among other global indices, the FTSE 100, DAX, Nikkei 225 and Shanghai Composite were also in the red.
The Swedish krona fell to an all-time low against the US dollar amid surprising inflation and a series of domestic and international rate hikes.
The dollar index is around 113 and is up 1.3 percent on Friday. The rupee fell 30 paise to close at a new lifetime low of 81.09 against the US dollar on Friday, weighed down by the strong overseas US currency and risk-on sentiment among investors.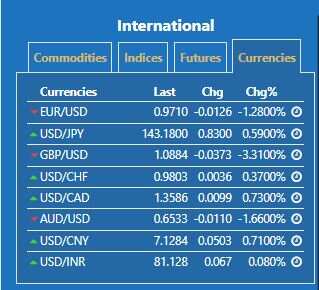 Source: Comex