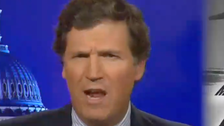 Tucker Carlson warned that the migrants could have caused a "decline" in mostly white and largely elite Martha's Vineyard after Florida Gov. Ron DeSantis (R) moved them this week from Texas.
Carlson remarked that Vineyard residents, who struggled to welcome and care for the unexpected visitors, should thank DeSantis for the former politician, stating that if "government officials send you the blessed gift of several immigrants or refugees, you must accept."
Carlson said on his show, "It doesn't matter how disruptive these new people are. It's irrelevant how much they cost to put up with or how much your quality of life might decrease after they arrive."
"It doesn't matter if the crime rate goes up, if your daughter is afraid to go outside, if the schools become unusable, the hospitals collapse," Carlson said. "It doesn't matter, you never complain. You take it like a man."
Carlson also disparaged Martha's Vineyard residents for serving cereal to migrants.
You can watch a series of clips from Carlson's show below.